Localize Your Business with Mindbank 's Model:
Build-Operate-Transfer
If you are seeking to build a professional software development company in Vietnam without having to waste time on establishing legal entities, going through lengthy process of hiring and testing new talents, as well as having to make sure that you are operating under laws and customs, our model is your best choice.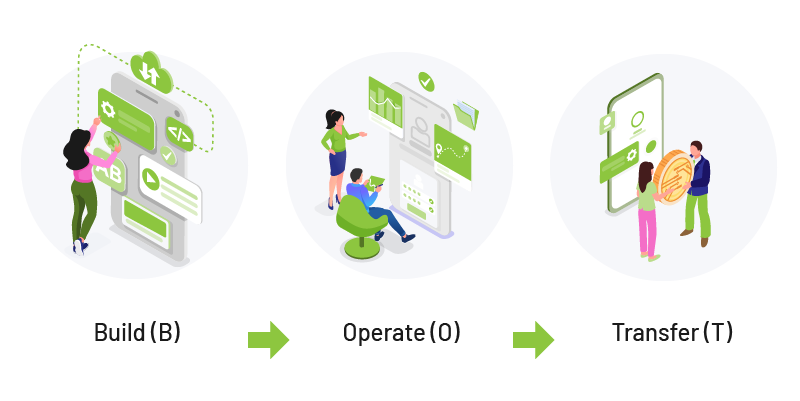 Build
First, you'll have a local trustable partner who will handle all the details of establishing your subsidiary and operate it for a defined period of time. We work with you to figure out what your main goals and criteria are. Then we take everything into consideration to define the skills and talent pool needed, taking into account all related information such as your business attributes, your market, potential customers, and all unique requirements. We take care of all the local paperwork for you so you do not have to worry about local laws and customs and concentrate on carrying out the best results.
Operate
We as an experienced software development company will coach and train this talent pool to satisfy all your needs and requirements with world-class standards, making sure that all employees are up to speed without compromise, so they can work on their own and carry out wanted results. This operation is done by both Orient and you as our clients, with each side inputting equal weight on the matter – us being the professionals in the field of IT, and you being the professionals in knowing what is the best for your business.
Transfer
After the training and coaching sections are completed, we will transfer the entire subsidiary and all its assets to you, along with staffing, so that you can take control of the operations with the guarantee that all your employees are ready to take charge sustainably without mistakes. In the post-completion process we are still standing with you as your IT partner to resolve any unexpected outcomes until your team can absolutely take control and you can fully take over the whole process. We also suggest and implement creative, inexpensive solutions for the challenges that businesses face when they are experiencing rapid growth.